Using language is one of the amazing feats of the human mind. This FIG explores the importance of language and other aspects of cognition in our everyday lives, and in what it means to be human. In particular we investigate the relationship between language and thought: How much does language affect how we think, and how we experience the world?
College Connections Faculty: Charlotte Vaughn and Paul Dassonville (Bio Coming Soon)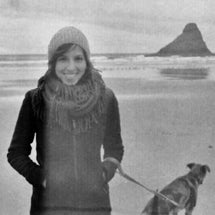 Charlotte Vaughn is excited to welcome you to the University of Oregon, and to the Speak Your Mind FIG! Charlotte got her BA from Duke University in her home state of North Carolina, received her MA and PhD from Northwestern University outside of Chicago, and has since taught Linguistics at the University of Oregon. Her research uses psycholinguistic methods to study speech perception – the way that human beings are able to understand speech. Specifically, she is interested in what listeners "know" about the speech of different groups of people (for example, speakers with regional or ethnic accents, bilinguals/non-native speakers, speakers with speech pathologies, etc.). She is looking forward to exploring the many fascinating topics at the intersection of language and the human mind with students in the Speak Your Mind FIG!
Email: cvaughn@uoregon.edu
FIG Assistant: Sarah Geddry
Email: sgeddry@uoregon.edu
Summer Assignment
Coming July 2018. Faculty and FAs are currently in the process of developing the FIG assignments.
Week of Welcome FIG Meeting
Coming August 2018
Possible field trips:
Visit the Lewis Center for Neuroimagining (MRI Brain Lab)