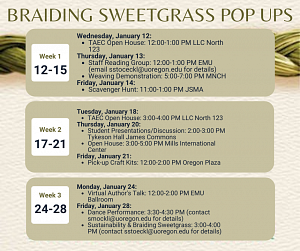 Other Events and Ongoing Activities
---
<Pop Up> Drop-In Weaving Demonstration at the Museum of Natural and Cultural History: January 13, 5:00-7:00 PM
Brenda Brainard will be doing a weaving demonstration, creating a mat from cedar, sedge, bear grass, and woodwardia. She will speak with visitors about the process and other questions they may have. MNCH Student Club will distribute DIY cordage kits to UO students. 
---
<Pop Up> Scavenger Hunt at the Jordan Schnitzer Museum of Art: January 14, 11:00-1:00 PM
Two versions of the Braiding Sweetgrass Scavenger Hunt will be offered across the JSMA galleries. 
---
<Pop Up> TAEC Open House at LLC North 123: January 18, 3:00-4:00 PM
Students can stop in to learn about TAEC programs and opportunities, meet staff, and receive a copy of Braiding Sweetgrass.
---
<Pop Up> Composition & Writing, Public Speaking, and Critical Reasoning Minor Combined Student Presentation/Discussion Event at Tykeson Hall James Commons: January 20, 2:00-3:00 PM
Students will give presentations, and attendees will have the chance to participate in discussion surrounding the themes of the presentations and Braiding Sweetgrass.
---
<Pop Up> Open House at Mills International Center in the EMU: January 20, 3:00-5:00 PM
Visitors will interact with activities related to Braiding Sweetgrass and "get-to-know-Mills" activities, earning stamps on a punch card and receiving a Mills mug or t-shirt for participation. Braiding Sweetgrass Pop-Up event blended with weekly event Chill in the Mills. 
---
<Pop Up> UO Libraries & Craft Center Braiding Sweetgrass Craft Kit in Oregon Plaza: January 21, 12:00-2:00 PM
Learn to make and use plant inks; explore the connection between the products we use every day and the natural world around us; hands on opportunity to look at plant ink art books/library resources related to the process.
---
 Braiding Sweetgrass Author's Visit: January 24th, 2022 12:00-2:00 PM
Join author Robin Wall Kimmerer in the EMU ballroom or via livestream as she discusses her book—Braiding Sweetgrass: Indigenous Wisdom, Scientific Knowledge and the Teachings of Plants. Kimmerer is this year's UO Common Reading featured author, and she will be on campus January 24th and 25th.
---
<Pop Up> Dance Program Performance at location TBD: January 28, 3:30 PM
The dance program will be putting on a dance celebrating Braiding Sweetgrass and the themes therein.
---
<Pop Up> Sustainability and Braiding Sweetgrass with the Office of Sustainability location TBD: January 28, 3:00-4:00 PM
An open discussion drop-in for UO students to discuss the text and its sustainability aspects. We may also discuss Kimmerer's public lecture. 
---
<Pop Up> Division of Global Engagement Games, Snacks, Advising, and Conversations at 300W Oregon Hall: February 1, 4:00-5:00 PM
Visit the Division of Global Engagement for a Lunar New Year celebration! Join us for world trivia games and snack, meet other students who are interested in global engagement, or who've lived or studied abroad, and as Robin Wall Kimmerer describes, explored the ways in which language and culture can influence our world view. Advisors for GlobalWorks International Internships, GEO study abroad programs, exchange programs, and international students will be available for office hours. 
---
<Pop Up> EMU Outdoor Program Redefining Outdoorsy Summit location TBD: February 12, 11:00-3:00 PM
Common Reading will be tabling, handing out books and discussing the program.
---
Black Lives Celebration & Justice
The "Black Lives: Celebration and Justice" gallery presents some of the research occurring on campus of various topics surrounding Black lives. 
---
Exploring the intersection of racism and transportation, its legacy, and what it means moving forward as future transportation planners and community members.
---
Past Events