---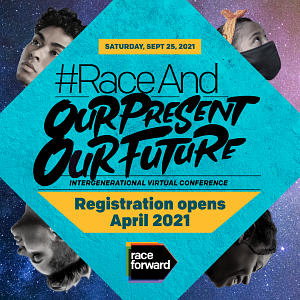 #RaceAnd
Saturday, September 25, 2021
As Race Forward celebrates 40 years of working at the intersections of "#RaceAnd" this year, we are inspired to uplift the ideas, strategies, and solutions of youth and young adults who have stepped up and reinvigorated the racial justice movement.
In that spirit, we invite you to join us for the first ever #RaceAnd: Our Present, Our Future conference! This half-day virtual event will take place Saturday, September 25, 2021.
The program will present thought-provoking and solution-driven keynotes designed by young leaders at the forefront of racial justice, insightful and inspiring breakout sessions, opportunities for virtual networking, and an exhibit hall featuring youth owned businesses.
Other Events and Ongoing Activities
Look. Listen. Learn. Act: January 9th to June 14th
Every year, the JSMA partners with the University of Oregon's Common Reading—campus-wide programming around a shared book and its themes—to organize a Common Seeing exhibition that explores and expands on the Common Reading through visual art. The 2020-21 novel is This is My America by UO Assistant Vice Provost for Advising, Kimberly Johnson. The Common Reading's charge of Listen. Learn. Act. incorporates different bodies of work across multiple platforms, focusing on Blackness, Black experience, and dismantling racism. The works on view in this year's Common Seeing, on loan from the collection of Jordan D. Schnitzer, are by Black American artists Hank Willis Thomas (American, b. 1976) and Alison Saar (American, b. 1956). Their art compels us to look, listen, learn, and act.
---
Fiesta Cultural Kick-Off Event: September 3, 2021
Downtown Eugene . Presented by Lane Arts Council and City of Eugene Cultural Services. The September First Friday ArtWalk kicks off Fiesta Cultural, a multi-month series of events celebrating Latino/a/x arts and culture in Lane County. Come downtown for music, dance, visual art exhibitions, family activities and more. Free! Visit Lane Arts Council for more Fiesta Cultural events.
---
Author's Visit: January 24th, 2022
Join author Robin Wall Kimmerer in the EMU ballroom or via livestream as she discusses her book—Braiding Sweetgrass: Indigenous Wisdom, Scientific Knowledge and the Teachings of Plants. Kimmerer is this year's UO Common Reading featured author, and she will be on campus January 24th and 25th.
---
Black Lives Celebration & Justice
The "Black Lives: Celebration and Justice" gallery presents some of the research occurring on campus of various topics surrounding Black lives. 
---
Exploring the intersection of racism and transportation, its legacy, and what it means moving forward as future transportation planners and community members.
---
Past Events

A Conversation with Author Kimberly Johnson
Thursday, February 11 at 4:00pm to 5:20pm
You will be asked to sign in with your Zoom ID.
Author Kimberly Johnson discusses favorite characters, themes, and writing process for her debut novel, THIS IS MY AMERICA, an unflinching yet uplifting story that explores the racist injustices in the American justice system. Session includes Q/A opportunity from the audience to engage with the author.
Kimberly Johnson is currently the UO Assistant Vice Provost for Academic Advising as well as a UO alum. Her book, This is My America is the featured selection of UO Common Reading during Winter 2021.
Facilitator: Doneka Scott, Vice Provost for Undergraduate Education and Student Success.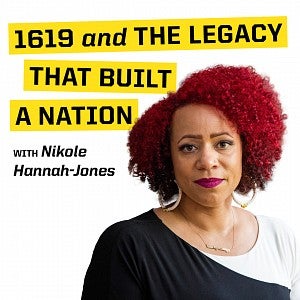 Nikole Hannah-Jones on "1619 and the Legacy That Built a Nation"
 Friday, February 19 at 4:30pm to 6:00pm Virtual Event
REGISTER NOW: https://sojc.link/1619project 
As the lead writer for New York Times Magazine's "The 1619 Project," a major viral multimedia initiative observing the 400th anniversary of the first African slaves arriving in America, Pulitzer Prize-winning journalist Nikole Hannah-Jones explores the lasting legacy of Black enslavement on the nation—specifically, how Black Americans pushed for the democracy we have today.
About the Event
This event is co-sponsored by the University of Oregon's School of Journalism and Communication, the Office of the President, Office of the Provost, Division of Equity and Inclusion, the UO Common Reading, the UO Student Services and Enrollment Management, and the Lyllye Reynolds-Parker Black Cultural Center. The annual UO School of Journalism and Communication Ruhl Lecture brings the most influential voices in mass communication to campus.