This FIG is for students interested in animal behavior, especially primates, and includes field trips to see animals behaving at the Oregon National Primate Research Center and the Cascades Raptor Center.
Note: This FIG has a required field trip on Sunday 10/15 from 7:30 A.M. - 2:30 P.M.
College Connections Faculty: Frances White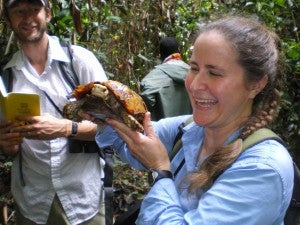 Dr. White is a biological anthropologist who specializes in behavioral ecology. Her research focuses on the evolution of non-human primate sociality and social systems. She has active field projects with wild bonobos in the Democratic Republic of the Congo and free-ranging primates in the US. She directs the Primate Data Lab and the Primate Osteology research laboratory which houses the UO Comparative Osteology Collection. Dr. White is head of the UO Anthropology Department.
FIG Assistant: Mariah Bloom
Email: mbloom@uoregon.edu
Summer Assignment
Hi Everyone, I hope you all are having an amazing Summer!
Before you come to campus in the Fall, there are two assignments Dr. White and I ask that you complete.
The first is to purchase and read the book Kanzi: The Ape at the Brink of the Human Mind by Sue Savage-Rumbaugh & Roger Lewin. This will be the only textbook you will need for the College Connections course. We will be doing our main and final project with it, so we suggest that you each obtain your own copy. I suggest having it read before classes start (Sept. 25th) so it won't be extra work for you during the term when you are juggling other school work. You can purchase it on Amazon.
The second assignment is to email me, mbloom@uoregon.edu, a short intro about yourself before we meet during Week of Welcome (Friday, September 22nd). In the email you can introduce yourself (name, where you are from, intended major, etc.) and tell me something interesting, something you look forward this coming year, or whatever you would like to tell me about youself. This gives me a chance to get to know you all a little better before we meet in the Fall. Please use your uoregon email account!
I know this can be a very stressful/ exciting time, so if you have ANY questions (even if they are not related to the FIG), don't hesitate to shoot me an email! I'm here for you and want to help anyway I can.
Enjoy the rest of your Summer and I'm excited to meet you all in the Fall!
Week of Welcome FIG Meeting
The first meeting for the FIG is Friday, September 22nd at 10:00 am in Columbia 150. Please arrive on time as we will be relocating shortly after.