This FIG is for students interested in animal behavior, especially primates, and includes field trips to see animals behaving at the Oregon National Primate Research Center, Cascades Raptor Center, and Oregon Zoo.
Note: This FIG has two field trips:
Saturday 9/29 from 7:30 A.M. - 2:30 P.M. (Required)
Saturday 10/20 from 7:30 A.M. - 2:30 P.M. (Optional unless you miss the first field trip)
College Connections Faculty: Frances White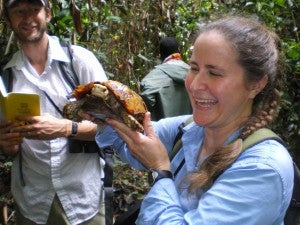 Dr. White is a biological anthropologist who specializes in behavioral ecology. Her research focuses on the evolution of non-human primate sociality and social systems. She has active field projects with wild bonobos in the Democratic Republic of the Congo and free-ranging primates in the US. She directs the Primate Data Lab and the Primate Osteology research laboratory which houses the UO Comparative Osteology Collection. Dr. White is head of the UO Anthropology Department.
FIG Assistant: Mariah Bloom
Email: mbloom@uoregon.edu
Summer Assignment
Please purchase the book "Kanzi: The ape at the brink of the human mind." It can be found on amazon.com.
Week of Welcome FIG Meeting
Coming August 2018