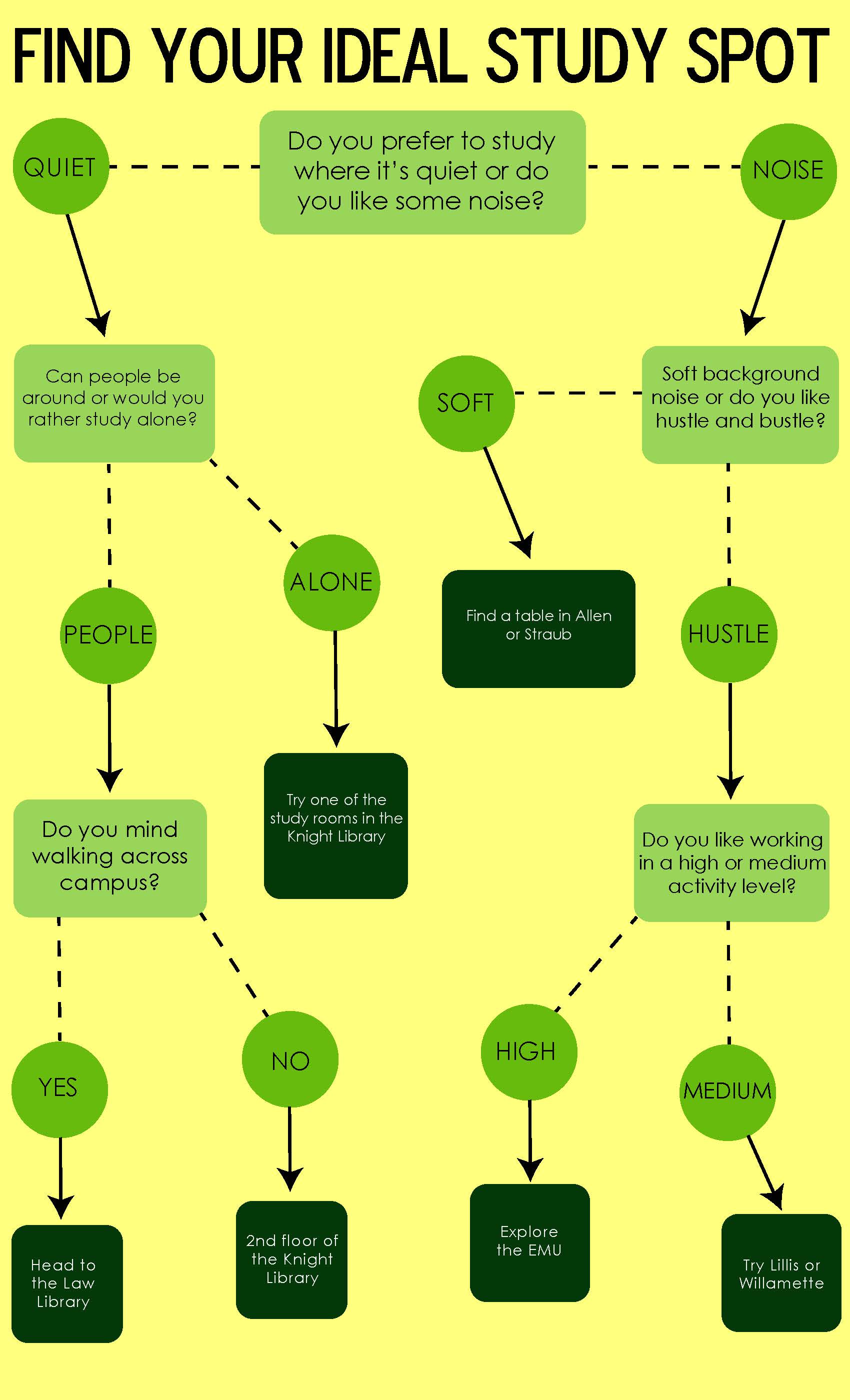 Finding your preferred method of studying involves trial by error.  Here are a few we have found useful:
1.    Choose a seat closer to the front of the class; it is easier to pay attention and ask questions.
2.    Your brain organizes things at night, try to study earlier in the day and review before you sleep.
3.    If you need to miss a class due to illness or other engagements, contact the professor before class.
4.    When using your computer, save often and on a disk or jump drive.
5.    Attend class review sessions, even if you think you do not have questions.
6.    Don't burn yourself out by studying in large time blocks, take breaks when needed.
7.    Test yourself - make up, or have a friend make up, a practice test to make sure you know the material.
8.    Plan ahead for midterms and finals to avoid cramming for multiple tests the night before.
Looking for a great place to study or just simply need to research for a class?
There are six different libraries on campus that offer quiet nooks for studying. Just because they are subject-specific doesn't mean they are exclusive. Check them all out to see which one you prefer. When visiting the Law Library, be respectful of the law students, who have first priority. Explore and discover the many resources available at your fingertips, including wonderful, quiet nooks to study.
Knight Library
15th Ave. & Kincaid
(541) 346-3053
*This website is a great general research tool.
Architecture and Allied Arts (AAA) Library
200 Lawrence Hall
(541) 346-3637
Allan Price Science Commons and Research Library
Lokey Science Complex - Onyx Bridge, Lower Level
(541) 346-3075
Math Library
210 Fenton Hall
(541) 346-3023
Law Library
270 Knight Law Center
(541) 346-3088
Global Scholars Hall Library
1710 E. 15th Avenue
(541) 346-9113
If you enjoy a good cup of coffee or a snack while you weed through your notes, the newly remodeled EMU is right up your alley. Willamette Hall is a nice alternative to the libraries, residence halls, or coffee shops. Hidden within are tables and nooks perfect for reading a book or relaxing with a cup of coffee from the Jaqua Center.
Resources that will save you time and headaches:
 - If you find yourself struggling on a class assignment, want to learn how to take better notes, or need help with time management, the Teaching and Learning Center (TLC) can help. TLC provides free learning support and special programs, tutoring in many university courses, workshops on time management, and several other services. TLC is located in 68 PLC –346-3226.
 - Staying on top of your University and major credit requirements is a science in itself, so make sure to schedule at least one appointment with Academic Advising every term. Advisers can help you understand your requirements, set schedules, and talk about your academic goals. In addition, if you find yourself with three or more finals on the same day, they may be able to help you reschedule one. Academic Advising is located in 364 Oregon Hall –346-3211.
- Finding a social network that shares your interests is especially important in being academically successful. The Center for Multicultural Academic Excellence (CMAE) works on connecting people from all groups and parts of campus to provide students with a social network that encourages their academic enrichment. They offer volunteer and research opportunities, as well as a series of programs dedicated towards the academic enrichment and inclusion of all students
- Have questions about the course material you are studying? Visit your professors during office hours. Professors are incredible resources and want to help you succeed. Don't be too afraid ask questions; in fact, it is a good idea to have some questions prepared when you visit. Other knowledgeable resources are the Graduate Teaching Fellows (GTFs) who may be your class instructors or discussion/lab leaders.
- Finally, if you are in a FIG, your FA is well equipped to assist you with study habits and peer advising. They also know how to get you to the resources you need on campus.