Unceded Kinship: Land Place & People
Unceded Kinship seeks to engage students and the UO community in honoring the past, present, and future of Native and Afro descendent peoples. The project explores how we can restore our relationships to one another and to the natural world while holding kinship, solidarity, and community as sacred. As a Global Justice Grant project, refusing the narratives of erasure, dehumanization, and subjugation, and envisioning a future rooted in Black Liberation and Indigenous Sovereignty are the drives behind the Unceded Kinship initiative. Unceded Kinship is guided and organized by UO alum Amber Starks, enrolled citizen of the Muscogee (Creek) Nation and of Shawnee, Yuchi, Quapaw, and Cherokee descent. Amber is a nationally-recognized community organizer, artist, and stylist.The project intersects with UO Common Reading's selection—Braiding Sweetgrass: Indigenous Wisdom, Scientific Knowledge, and the Teachings of Plants by Robin Wall Kimmerer.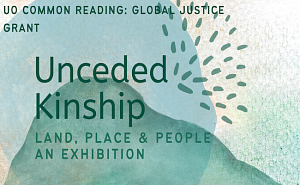 Interested in Unceded Kinship and the Global Justice Grant work? Here are some other resources and projects to check out!
---
Looking to explore even more projects?
---
If you have any questions, are interested in getting involved with Unceded Kinship, or want to give feedback on the project: 
The Unceded Kinship team would love to hear from you!
Please send us an email at commonreading@uoregon.edu.