Bella Italia! combines an introduction to the beautiful Italian language with an exploration of Italy's artistic, cultural, and scientific legacies.
College Connections Faculty: Nathalie Hester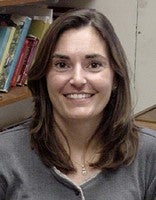 Nathalie Hester is an Associate Professor of Italian and French at the University of Oregon. She is interested in Renaissance and Baroque literature, travel literature, early modern French and Italian historiography, early modern Italian convent culture, feminist theory, and seventeenth-century women's writing. She teaches a variety of courses ranging from Italian 150: Cultural Legacies of Italy, to Romance Languages 407/507: Early Modern Travel Literature.
Dr. Hester's email address is nhester@uoregon.edu.
FIG Assistant: Elizabeth Figlio
Bio coming soon
Summer Assignment
Coming July 2018. Faculty and FAs are currently in the process of developing the FIG assignments.
Week of Welcome FIG Meeting
Coming August 2018