Bella Italia! combines an introduction to the beautiful Italian language with an exploration of Italy's artistic, cultural, and scientific legacies.
College Connections Faculty: Nathalie Hester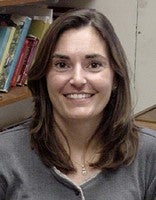 Nathalie Hester is an Associate Professor of Italian and French at the University of Oregon. She is interested in Renaissance and Baroque literature, travel literature, early modern French and Italian historiography, early modern Italian convent culture, feminist theory, and seventeenth-century women's writing. She teaches a variety of courses ranging from Italian 150: Cultural Legacies of Italy, to Romance Languages 407/507: Early Modern Travel Literature.
Dr. Hester's email address is nhester@uoregon.edu.
FIG Assistant: Louis McBennett
Email: louism@uoregon.edu
Summer Assignment
For your summer assignment, please write a brief blog post for our FIG's blog. This post should include a short introduction of yourself as well as a link to something that interests you that has to do with Italy (a webpage about a historical site, an Italian music video on YouTube, a city website, etc.) Please write and email this blog post to me at louism@uoregon.edu. If you'd like to see examples from previous years, here is the blog with student posts from two years ago: Bella Italia! blog
Week of Welcome FIG Meeting
The first meeting for the FIG is Friday, September 22nd at 10:00 am in Columbia 150. Please arrive on time as we will be relocating shortly after.