In this FIG we will explore the expansion of forms of legal repression against Black People and other marginalized populations in 20th- and 21st-century America alongside one of the most inspiring of the many expressive cultural forms to have emerged in response to that repression.
College Connections Faculty: Michael Hames-Garcia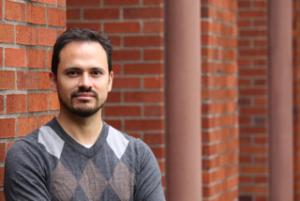 Hi folks! I'm your professor for Twelve Bars from Freedom. This year will be my 20th year as a professor. I've taught at the University of Oregon, at Binghamton University (part of the State University of New York system), and at the Elmira Maximum Security Correctional Institution for Men (both in Upstate New York). I was born in Billings, MT, but grew up and attended school in Oregon all the way through college. That said, I've lived all over the place, including study abroad in Mexico, Quebec, and London. I created your ES 352 class from scratch years ago, but it's based on classes I've taught my whole career and grew out of my dissertation research in the 1990s. You'll find out that I care a lot about the subject matter.
That said, I also love music, so I'm psyched about connecting ES 352 with History of the Blues. I went to college on a piano performance scholarship and used to play in cafes in Portland for tips when I was a teenage. I was also an English major, so I'm hope we can have some good conversations about UO's common reading this year, Louise Erdrich's novel The Round House. I'm a slow reader, so don't worry if you are, too. Chances are, we'll both be up late the night before trying to finish reading on time.
If you want, shoot me an email over the summer. I'm taking care of an elderly parent, though, so don't take it personally if I don't reply right away. You have permission to send a follow up email to guilt me about it. :)
Best,
(Professor) Michael (Hames-Garcia)
Email: hames-garcia@protonmail.com
FIG Assistant: Katie Lor
Email: klor5@uoregon.edu
Summer Assignment
For your summer assignment, we ask that you read the UO Common Reading book The Round House by Louise Erdrich as well as watch the documentary "13TH" by filmmaker Ava DuVernay (which is available on Netflix).
Week of Welcome FIG Meeting
The first meeting for the FIG is Friday, September 22nd at 11:00 am in Columbia 150. Please arrive on time as we will be relocating shortly after.