What does it mean to be human? Is there a simple or single definition? Has it changed since our origin? How do we define that origin? We will explore what it means to be a human, and how we are shaped by biology (cells, genes, ecology, evolution) and culture (groups such as gender, class, family, nationality, religion, race), and how biology and culture are interconnected (health, food, opportunity, perception, circumstance).
College Connections Faculty: Larry Ulibarri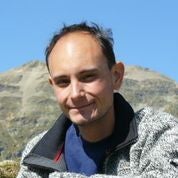 Dr. Ulibarri is an adjunct lecturer. He spent the past several years in Vietnam conducting research on the behavior and conservation of the red-shanked doucs (Pygathrix nemaeus) and their habitat. His research included the social organization, ranging behavior, activity budgets, nutritional and feeding ecology of the doucs as well as climate, plant phenology, habitat evaluation, road ecology and anthropogenic effects.
His work contributed directly to a local conservation project for the red-shanked doucs at his study site. In close cooperation with the local authorities he and Dr. Ulrike Streicher developed and implemented education and outreach activities as well as measures to improve the conservation of his research population by restoring degraded habitat and setting up canopy bridges. Dr. Ulibarri has a passion for teaching and, having lived for five years in Vietnam, he brings in a strong interest to connect academic research with much needed conservation efforts on the ground.
FIG Assistant: Adriane Hershey
Email: ahershey@uoregon.edu
Summer Assignment
Coming July 2018. Faculty and FAs are currently in the process of developing the FIG assignments.
Week of Welcome FIG Meeting
Coming August 2018