Global Bridge iFIGs
Global Bridge International First-Year Interest Groups (iFIGs) provide a great first-year experience for international students that are required to take the year-long sequence of Academic English for International Students (AEIS) courses. Students in Global Bridge iFIGs will take their required AEIS courses in a package with other university courses that satisfy core education requirements. The Global Bridge Program is required for students who test into 5 or more AEIS courses. The following link details the process of testing through AEIS: UO American English Institute Placement Testing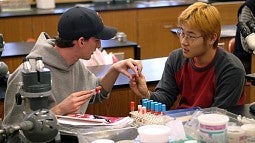 Global Bridge iFIGs are an opportunity for international students to connect their English learning coursework with core education classes, as well as build academic skills to thrive in their studies throughout their time at the university. The added advantage of Global Bridge iFIGs is that AEIS instructors tailor instruction in their courses to support the other non-AEIS class. This means that students will see the immediate relevance of the work they are doing in their language classes and connect it to the content they are learning in the core education course. This type of instruction is very powerful for language acquisition. The program ensures that students are enrolled in the AEIS classes they need and are making good progress in meeting university graduation requirements.
Global Bridge iFIGs will also help students make various connections in their first year. Students will:
Connect with faculty members
Connect with an undergraduate peer-mentor
Connect to academic courses
Connect with peers
Connect with the campus and the Eugene community

Being part of a Global Bridge iFIG enhances the overall college experience and sets international students on a path to success. Students who start out in a FIG earn higher grades throughout their first year and beyond and are more likely to graduate in four years.
What classes are included in a Global Bridge FIG?
Each iFIG includes 2 AEIS courses, a core-education course, and a 1-credit small seminar called "FYE Seminar."
What is "FYE Seminar"?
"FYE Seminar" is a small seminar in the FIG package designed to help students further the connections they are making in their core education classes while building a campus community that will help students succeed. The "FYE Seminar" class is led by a faculty instructor and is assisted by an experienced undergraduate peer mentor known as a FIG Assistant (FA). These mentors are extensively trained to help new students with their transition to the UO.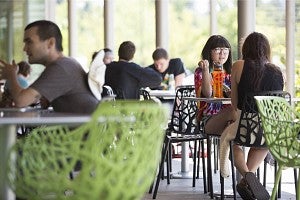 The FYE Seminar class will help students explore the content from all lecture classes included in the FIG, as well as provide vital resources to ensure that students succeed in their first year and beyond. In these courses students will have access to Academic Advisors, Library resources, tutoring and assistance from the Teaching and Learning Center on a regular basis. The class will also provide students with educational and social activities designed to better acquaint students with their peers, their faculty members, the University, and the Eugene community as a whole. These activities may include library orientation, study groups, lunch with a professor, field trips, and more.