This FIG will use life-cycle assessments and the principles of green chemistry to discuss sustainability from a chemical perspective; topics include polymer chemistry, water purification challenges in the 21st century, and an introduction to life-cycle thinking.
Note: Please see academic advisor before attempting to add a chemistry FIG.
College Connections Faculty: David Tyler & Darren Johnson
David Tyler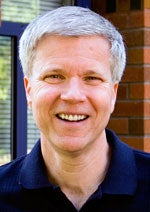 David Tyler is a professor of Chemistry and specializes in Inorganic, Organometallic and Polymer Chemistry. Tyler received his B.S. from Purdue University, and a Ph. D. from the California Institute of Technology. In addition, Professor Tyler is a member of the American Association for the Advancement of Science and the Materials Science Institute. He has been at Oregon since 1985 and is currently conducting research that explores mechanistic organometallic and inorganic chemistry, polymer chemistry, catalysis, and photochemistry.
Darren Johnson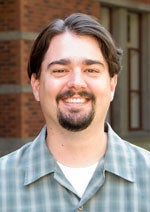 Darren Johnson received his B.S. from the University of Texas, Austin and went on to complete a Ph. D. program at the University of California, Berkley. He has been at the University of Oregon since 2003 and is currently an Associate Professor of Inorganic, Organic, Supermolecular, and Materials Chemistry. His research projects include developing specific metal chelators for a variety of toxic and environmentally hazardous metals; investigating the synthesis and applications of inorganic cluster compounds; and using multiple weak interactions within small molecule receptors to target environmentally and biologically relevant substrates.
FIG Assistant: Camryn Long
Email: camrynl@uoregon.edu
Summer Assignment
For your summer assignment, please read the life cycle assessment for Levi's jeans at this website: Lifecycle Assessment
Week of Welcome FIG Meeting
The first meeting for the FIG is Friday, September 22nd at 10:00 am in Columbia 150. Please arrive on time as we will be relocating shortly after.