How do we use art to tell stories and to make sense of the world around us? The two courses of this FIG will together explore the role of the visual arts in the construction of both fictional and biographical narratives, with specific focus on our ideas about gender and self-hood. Many of our primary materials will be drawn from the world of comic-strips, comic books, and graphic novels - modern story-telling forms that combine the verbal with the visual arts in a unique way.
College Connections Faculty: Ben Saunders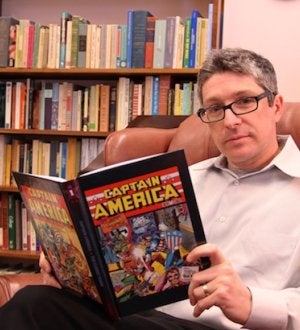 Ben Saunders specializes in two fields: the literature of the English Renaissance; and the history of British and American comics and cartoons.  His first book, Desiring Donne, explored the intersection of spirituality and sexuality in the poetry of John Donne alongside larger questions of literary theory and hermeneutics. Desiring Donne was shortlisted by Choice magazine as one of the outstanding academic titles of 2006, and also selected as a Finalist for the Oregon Book Award that same year.  His second book, Do The Gods Wear Capes?, focused on modern American superhero comics, arguing that the superhero fantasy can tell us a great deal about about our conceptions of the human, the post-human, and the divine. Do The Gods Wear Capes? has been widely cited in both academic contexts and the mainstream media; the "groundbreaking" chapter on bondage imagery in Wonder Woman comics is often singled out for particular praise. In addition, Saunders has written numerous free-standing scholarly articles on a variety of topics, from the plays of Shakespeare to the Peanuts comics of Charles Schulz, and co-edited a collection of essays on popular music (Rock Over The Edge, with Roger Beebe and Denise Fulbrook).
FIG Assistant: Malyssa Robles
Email: malyssar@uoregon.edu
Summer Assignment
For your summer assignment, read the UO common reading novel (The Round House by Louise Erdrich) and write a response (1-2 pages, double spaced, 12 pt. font) considering three themes or motifs from the text. Relate these themes to your life or past experiences. This is to be turned in on our first meeting and will be discussed as a group.
Week of Welcome FIG Meeting
The first meeting for the FIG is Friday, September 22nd at 10:00 am in Columbia 150. Please arrive on time as we will be relocating shortly after.